Start Page
Access:
Window
:
Start Page
The Start Page is the first page that users encounter in AutoSPRINK FAB and functions as an access hub for Recent Files, Favorite Folders, and Settings Files. The Resources section contains several helpful links to AutoSPRINK FAB material and indicates whether the software currently installed is up-to-date.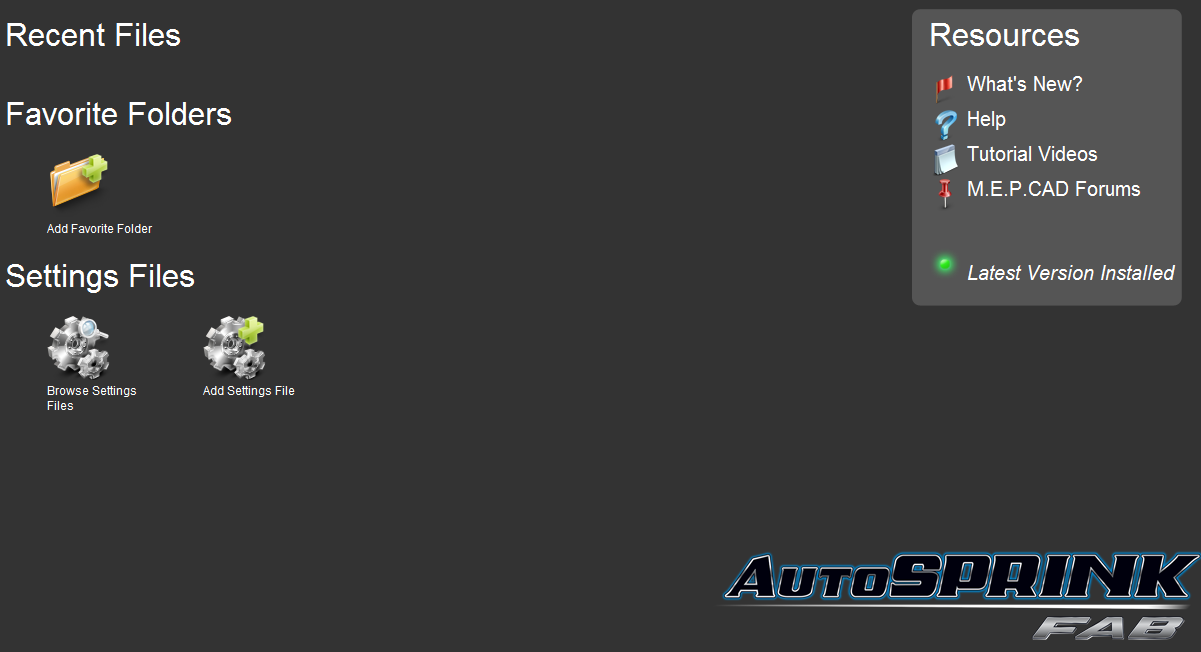 Recent Files
Files that have been recently accessed will appear under Recent Files. This allows users to easily access on-going projects.
Favorite Folders
The favorite folders feature allows users to add and manage favorite folders. The Add Favorite Folder icon allows users to add a new favorite folder to the start page. These folders can be managed so that preferred files can be accessed quickly.
Settings Files
The settings files feature allows users to add and manage (.cas) settings files. The Add Settings Files icon can be used to upload settings files to the start page. Once a settings file has been added to the start page, users can quickly open a new drawing with this settings file by double-clicking the file. Users can also use the Browse Settings Files icon to upload settings files from their computer into a single new drawing.
Resources
The Resources section of the Start Page includes several helpful links. The What's New? link leads to the What's New section of the help menu. Here you can find new features, training videos, and release notes. The Help link provides quick access to the AutoSPRINK FAB Help menu. The M.E.P. CAD Forums link gives users quick access to the M.E.P. CAD forums where users can find discussions about AutoSPRINK FAB, frequently-asked questions, example projects, discussions about AutoSPRINK FAB releases, technical support, special projects, and join the discussion by leaving a question of their own for the M.E.P. CAD community, which is frequented by many M.E.P. CAD programmers.
Keeping Up-to-Date with the Latest Version
It's easy to stay up-to-date with the latest version of AutoSPRINK. The Start Page features an update check in the bottom-left corner of the Resources section. A green light and the text "Latest Version Installed" indicates that the latest version of AutoSPRINK is installed. A yellow light and the text "Update Available" indicates that a new version of AutoSPRINK is available for download.